A Tourist in Other People's Reality
15 czerwiec – 29 wrzesień 2013, Investigating the archives of Vestry House, London
Vestry House Museum, London
wersja dostępna tylko w języku angielskim, przepraszam!
A Tourist in Other People's Reality features the work of three artists, investigating the archives of Vestry House, a local museum and former workhouse. Cecilia Bonilla (Uruguay/Sweden), Sława Harasymowicz (Poland) and Joanna Rajkowska (Poland) reveal the invisible, the missing and the fragmented narratives from the past lives, and project fictive outcomes from the interstices of history.  Working in video, sound, and assemblage the artists examine and reimagine the archive exploring the divisive history of the place and its political and social pretexts. A diverse body of work it is united by the impulse to offer a multitude of re-constructions of the past and interpretations of the present. Exposure, adjustment, manipulation, juxtaposition, recreation, re-enactment, layering – all of these techniques used by the artists – attempt to activate layers of meanings from the passive realm of archival lore. Collective memory evokes personal accounts in which the invisible and forgotten lives are reawakened, the voiceless are brought to life, and the marginalised take centre stage. Provocative and disturbing, this gesture renders new lines of examination from old conflicts, and serves as a platform for dialogue into the present.
The exhibtion challenges the political and social implications embedded in the archive as a source of knowledge, and wilfully disturbs the "true" history of Vestry House through creating openings towards the fictional. The expectation and desire for the material trace of a human being is set against the physical emptiness of what is left. With this premise in mind, the exhibition stages a spectacle of frustration and coercion carefully orchestrated by the three artists.
---
For the exhibition, Joanna Rajkowska produced three works, Song from the Workhouse, Clogs and Architecture of Labour. Her body of work strives to document the presence of the paupers while offering them a way to revolt against the rules and constraints of the workhouse.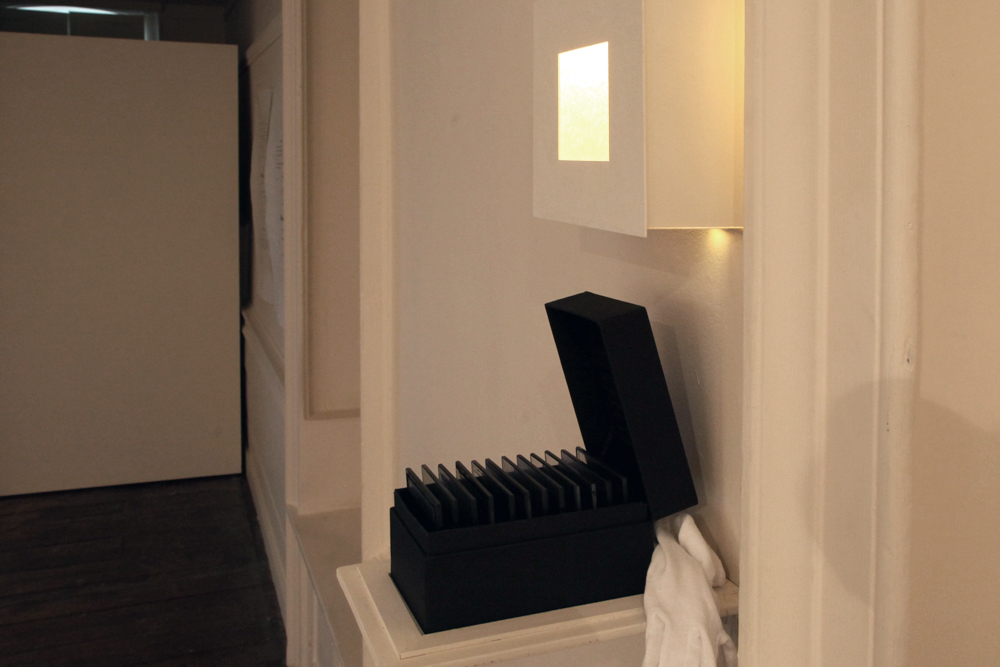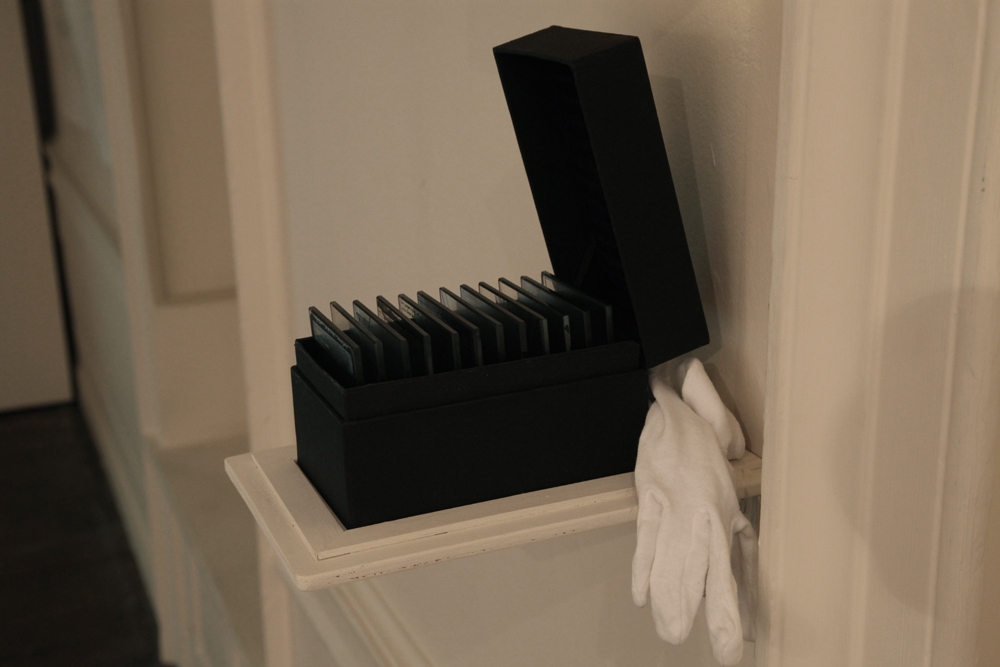 Joanna Rajkowska, Architecture of Labour, 2013, glass, wood, light bulb, dimensions variable
The Song from the Workhouse, performed by Ola Kozioł in Joanna Rajkowska's project, listed the reasons for admission to the Workhouse and described its residents in 1745.
Blind
Destitute
Lost The Use of His Legs
Blind
Destitute
Destitute
Destitute
Infirm
Infirm
Ruptured
Readmitted,
Being Found
Destitute
Pregnant
Pregnant
Pregnant
Destitute
Destitute
Infirm
Would Not Stop
Child Died
Destitute
Would Not Stop
Mother Dead
Illegitimate
Father Dead
Removed Home
With Mother
Mother Dead
Father
Destitute
Mother Dead
Illegitimate
Destitute
Born in the House
Destitute
Destitute
Destitute
Mother Dead
Illegitimate
Illegitimate
Destitute
Parents Dead
Left Her Place
3 men aged between 33 to 60
12 women aged between 27 to 82
5 boys aged btween 1 to 11
12 girls aged between 4 to 14
The performer sang using the "white voice" technique typical for folk music in Poland, Ukraine and Belarus. You can listen to her performance if you click on the video file at the bottom of the page.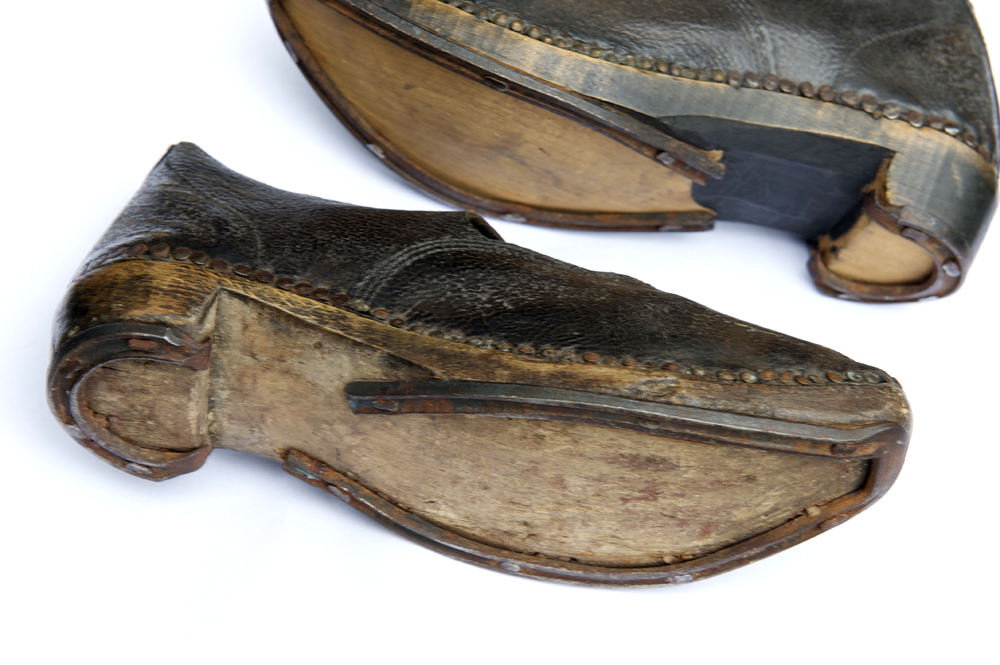 The Clogs project was an reenactment of a noise of a collective walk that the women from the Workhouse had to perform going to the nearby church every Sunday. The pair of clogs found in the Vestry archives was used to recreate the distressing sound of the walk.
---
Cecilia Bonilla (Uruguay/Sweden) studied Fine Art in Florida, USA leading to a MFA at Chelsea College of Art, London, UK, where she has lived since 1999. Through manual intervention and digital manipulation, Bonilla appropriates mass-produced images to explore our relationship with the female representation in mass-media and the domestic space. Solo shows include National Museum of Visual Arts, Subte Municipal, Montevideo, Uruguay, 2012, and a commission for Haringey Council's Olympic Art Collection, London, UK, 2011. Her work was part of group exhibitions at Centre for Photography, Stockholm, Sweden, 2010, Nurture Art, NY, USA, 2010, The MAB Film Exercise, Arnolfini, Bristol, UK, 2010 and Video-Dumbo at EyeBeam, NY, USA, 2013.
Sława Harasymowicz (Poland) after receiving an MA from Royal College of Art, London, UK Harazymowicz is currently working towards a practice based Phd in Fine Art at Central Saint Martins, London. She also holds an MA in English Philology (Jagiellonian University 1997), and is a lecturer/guest lecturer in Fine Art and Visual Art Practice. Her work attempts to track specific fragments of history, partial memory and personal anecdote where autobiography acts as a navigational tool, a place of reference and examination. Her solo exhibitions include Wolf Man, Freud Museum, London, UK, 2012, together with a publication of a graphic novel based on Sigmund Freud's Wolf Man, 2012, forthcoming solo shows include Ethnographic Museum, Krakow, Poland, 2014. She won the Arts Foundation Fellowship, 2008, Victoria and Albert Museum Illustration Award, 2009, and was a member of the Award's jury in 2010.
Joanna Rajkowska (Poland) works mostly in public space. She produces objects, architectural projects, geological fantasies, excavation sites and ephemeral actions as part of her widely discussed public projects. Many of them have not been realized, but they work as collective utopias. It includes commissions for Frieze Projects 2012, UK, Forcing a Miracle, 2012, Royal Society of Arts, Citizen Power Peterborough Programme's Arts and Social Change, Arts Council England, UK, The Peterborough Child, project in progress, 2012, 7th Berlin Biennale, Germany, Born in Berlin, 2012, British Council, Turkey, Benjamin in Konya, 2010, The Showroom, UK, Chariot, 2010, Museum of Modern Art in Warsaw, Poland, Ravine, 2009, Trafo Gallery, Hungary, Airways, 2008, and CCA Ujazdowski Castle, Poland, Oxygenator, 2007. As well as commissions, she has realized a number of partisan public projects, most notably Greetings from Jerusalem Avenue, 2002, in Warsaw, Poland. The publication on her work, Where the Beast is Buried, will be published by Zero Books in summer 2013. She is based in London, UK.
Aleksandra Kozioł (Poland) works in the multitude of genres including painting, installation, film and performance. Kozioł also incorporates the 'white voice' technique in her artistic practice. Singing collaborations include organized collective singing (e.g. Days of Traditional Music – Pograjka in Łódź), she is a member of a group specializing in traditional singing – Miejskie Darcie Pierza (City goose-plucking) and a member of Wielki Chór Chorei (Great Choir Chorei).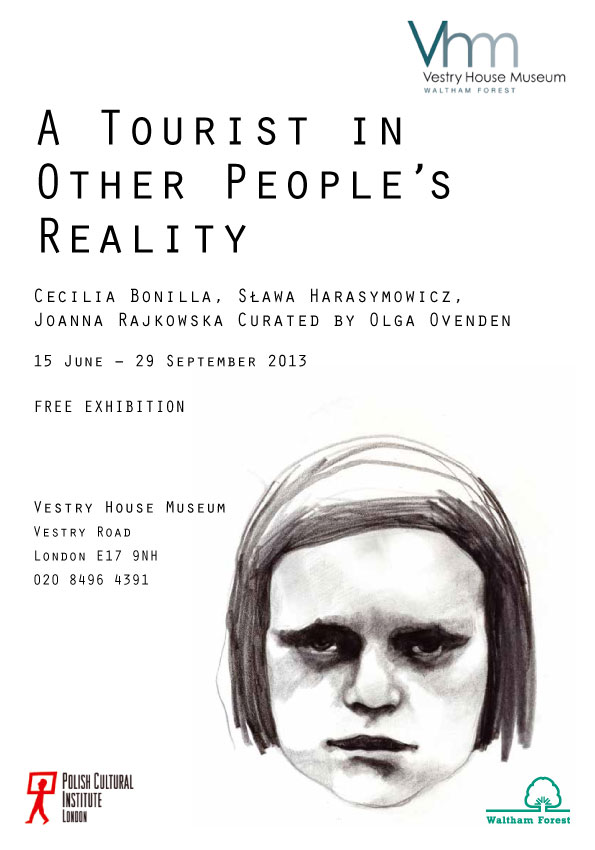 ---