I, Earth
6 September 2023, in the frame of New Performance Turku Biennale
Turku, Finland
The very rocks on which we stand speak through this performance. They speak of how humans treat the soil, rocks, sand – the material on which we stand and on which we depend. In Slavic myths, the earth was always real, sensual and material: Mokosz – Mother Earth ( Moksza in Finnish), the central figure of the cult of the 'moist earth mother' – soil, primaeval matter.
Selected individuals, including environmental scientists, writers, botanists, shamans and artists were asked to step outside themselves and 'become' soil – earth, embody Mokosh (Mati Syra Zemlya, Matka Ziemia) or literally – soil. The contributors were given only the guidance that, as earth, they should direct their statements to humans. For this performance, Joanna Rajkowska has assembled an international troupe (a "white voice" singer, a base monolin player and a choir) who performed these contributions from within a crack in the earth's surface – a crevice some 7 metres deep that runs through solid rock on an island near Turku. The desire was to allow the surface to speak as literally as is possible.
The performance I, Earth was an attempt to give a voice to the earth. Employing the Eastern Orthodox methodology of icon painting which does not represent, but incarnates the deity, has been employed in this project to sense what earth could tell us, humans,  what would be the message addressed to us.
Members of audience could sit down or lie down on the ground to feel the vibrations of the earth during the performance.
The site that was chosen for I, Earth was the so called
pirate's crevice on Ryöväriholma.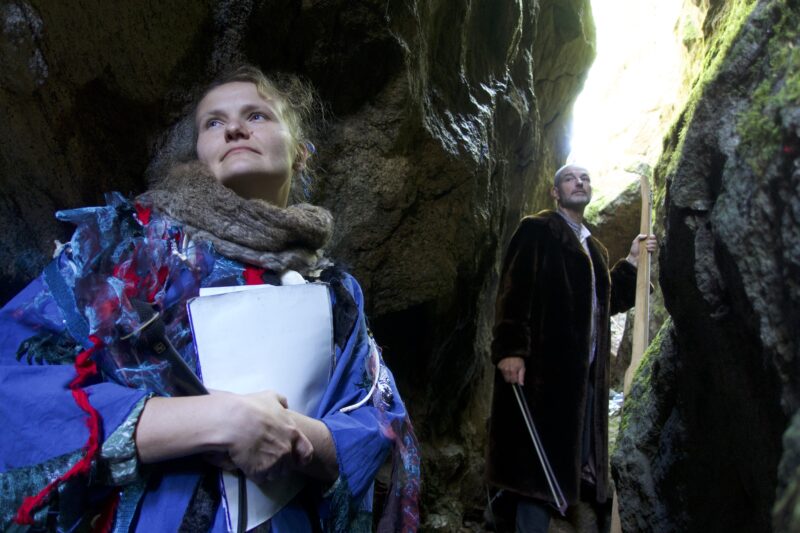 The origin of the performance I, Earth was a deep concern about the destruction of our planet's ecosystems. It is more than just concern – it is irritation, rage and despair. Knowledge, competence and resulting activist efforts do not give us much sense of real change. We feel powerless and inert. The accumulation of bad energy often produces aggression and self-aggression. My performance proposed a rather different approach to this energy – namely, instead of analysing or disabling it, it will rather incarnate it or personify it. Here I used techniques that I have developed through 30 years of my work, and which originated in the Eastern Orthodox relation to the image.
First, however, I, Earth was an attempt to embody something that is so very real, and at the same time so vast and so diverse that it becomes an abstraction in our minds, a hyperobject – this is life on Earth. We are part of it, we are stuck in an infinite network of relationships and interdependence. The concept of separation from it causes real suffering. And, as we all know, it is a catastrophe not only for people, but for the entire biosphere.
To visualize life on Earth (bíos) I will use its simplest counterpart – the earth. In Slavic myths, the earth was always real, sensual and material. This is Mokosz, identical with Mother Earth (mat' syraja zemlja or in Finnish – Moksza), the central figure of the cult of the "moist earth mother". In the performance, the earth understood in this way is to be not only a symbolic axis, but also simply soil, let's call it here – primeval matter.
During the performance, I proposed to the participants the articulation of despair, but not from the position of "I", but from the position of primal matter. This abandonment of the self allowed for a fundamentally different emotional structure.
TEXTS:
Francis Joy
Feet on the earth, the deep, deep earth.
Roots in the earth, the deep, deep earth.
Planting trees upon the deep, deep earth.
Food for humans, animal and bees,
Who live upon the earth, the deep, deep earth.
We love the earth, the deep, deep earth,
Our beloved Mother, the deep, deep earth.
++++++++++++++++++++++++++++++
Yanara Friedland
Nothing sleeps, still moving.
Black seeds and water going through.
You come to me, your body inside of my body.
No one is coming.
I devour you, the eyes last, draw in the mosquito.
It is not peaceful.
I hold you in cold pulsation.
I devour you and the slow moving fast burning shell of the snail.
Bottles and watermelon seeds.
Your hair, I am heavy heaving with roots.
I devour your heat, bladder, father's head.
Footsteps, gaseous fumes, the rain.
I, clean earth, churn your tender skin.
I eat and dry guilt through orifices, all filled up.
Full earth, filling.
I fill your void, your voids, endless machine.
The murderer, murdered are here-your hands tied in the grass.
Give up the power.
The tree below is mangled, invasive rooting in which the dried up frog and exposed lily pad roots hold on.
++++++++++++++++++++++++++++++
Andrew Dixon
Humans!
You who live on us,
you who live off us,
you who dig into us to extract our jewels,
our juices, our gems.
You who take from us but give back only poison –
and your dead.
We have gently coated this planet for billions of years,
changing ourselves over time and location,
supporting myriad life forms –
most of whom you have never seen and will never know of.
And now here you are,
with your smutty little machines,
your chemicals – which you also extract from us –
and you ruin us for all the others.
We feel your tools,
your machines scraping, gnawing, drilling, hammering, grinding us.
We feel your petty little wars.
Your puny explosions.
But your wars will only bring about your end sooner.
Your time is almost up.
We, who have been so giving, so forgiving,
we have had enough.
We will reabsorb you, take you back into our bosom, feed your molecules, your elements back to those species surviving, those you haven't yet killed off, and those yet to come.
For us, your presence has lasted just a blink of an eye,
we will endure –
but just look at what you've done.
You bastards!
++++++++++++++++++++++++++++++
Hanna Ojanen
You! Where are you going in such a hurry?
Stop. Rest. In me. I am your body. I am your nourishment.
I'm a slow rhythm to settle into. Respiratory.
Breathe. I'm you.
A fire burns inside me – a force of passion.
Surrender. Feel the glow of the fire.
Love.
I am sleep, growth, life, withering, death.
I am permanence and decay. I am the darkness and the sparkling light.
My arms are always open.
I am the cup of water, the vibration in you.
I'm talking to the moon.
I am empty and full.
I give life. I am the uterus.
I am everywhere just like you – human.
I carry you.
And when you're gone, I'll take your flesh, I'll take your bones.
I'll be there tomorrow too.
What about you – human?
++++++++++++++++++++++++++++++
Robert Yerachmiel Sniderman
Why not eat the glowing remnants of your holiness
learning to leave
in the name of the powerless
what you sometimes call forest
and in other situations
under us
resolution
because your intestines are full of its burning trash
all your literatures and urge
unable to shit?
The yarrow is porous and unwelcome
the nettle is porous and unwelcome
the beloved is porous and unwelcome.
Why not know the kneaded like the pulverized?
The truth is I prayed for you to miscarry
the time before we conceived
in Zagros
in Baboquivari
in Volga
here is the beginning, the pore and oud standing.
Coeval inception standing.
Oud
heat.
Overdressed
standing ovation
and where is light?
These shelters of fire
these end
brief as a hailstorm refracting
swell back in
these conglomerations visit
trading rapture for pollen
fire as fragile as symmetry
your chronic departure is mines
veins the ill know
Ishtar slack so that I feel myself
and where is dark?
I feel myself hearing you on the surfaces
nothing disappears but cancels another.
++++++++++++++++++++++++++++++
Urszula Zajączkowska
If you were looking for me and my revenge on scorched hills and dead rivers, for everything I allowed you – you won't find it in me.
I'm from everyone else! I create myself from others – in others!
My mother is soil, my soul is water, my strength is tree trunks and grass fibres.
I am made of lumps of soil, nets of blood vessels and leaf juices.
I'm from everyone else! I am creating myself from others!
In the condensation of the air, all your dirt is oozing through me.
All your dirt. And your terrible bitterness. I poison my vessels with it.
And yet I am of all others! I am creating myself from others!
A swarm of beings on the border of life and air, thanks to which you breathe and
wash your face with living water,
I take to the depths –
– so that someday they will be reborn. And you're becoming more and more alone here.
Because I am of all others! I create myself from others in others!
++++++++++++++++++++++++++++++
Anna Chudzik
Oh mankind!
Oh man!
You, to whom I have given everything
.
Insatiable, you keep rummaging through my pockets!
I curse you!
You for whom my breasts were full
You eviscerate me
And lap up my blood greedily
I curse you!
You who make my skin crack
My eyes burn
And start my juices rotting
I curse you!
One of my breathes
A thousand years of your existence
I watch in silence
As smoke obscures the sky
Which you call yours
I curse you!
I was, I am and I will be!
You
Perish!