The Hatchling. Song Thrush
2023, public project – acoustic sculpture, 210cm x 300cm x 220cm
Warsaw, Five Corners Square
The Hatchling. Song Thrush is a scaled-up thrush egg. It is an acoustic sculpture – inside the shell there is a system that emits the sounds of a hatching chick. The heartbeat and the first chirps of the chick can be heard and the beak pecks on the shell. The egg trembles because it acts as a membrane that allows you to hear and feel the vibrations of the sound waves. To appreciate The Hatchling, the viewer should rest their head on the sculpture, touch it with their hands, or even hug it.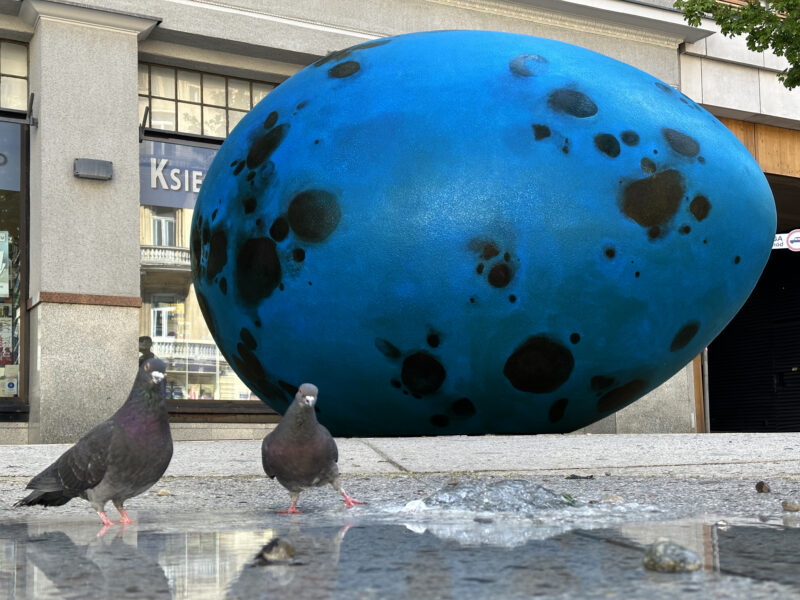 The project is dedicated to the space of Plac Pięciu Rogów (Five Corners Square) and relates to its history. To quote Aleksandra Jach: "In the 18th century, bloody and cruel spectacles of animals fighting or hunts of animals were organized there. Every place in the world has its own palimpsest. (…) the junction of Chmielna, Bracka and Krucza in its current shape seems to be a relatively innocent centre of consumption and entertainment. However, it is worth remembering that two centuries ago, many creatures were killed there – for the pleasure of viewers." For this, a purpose-built, wooden amphitheatre was constructed which could accommodate about 3,000 people.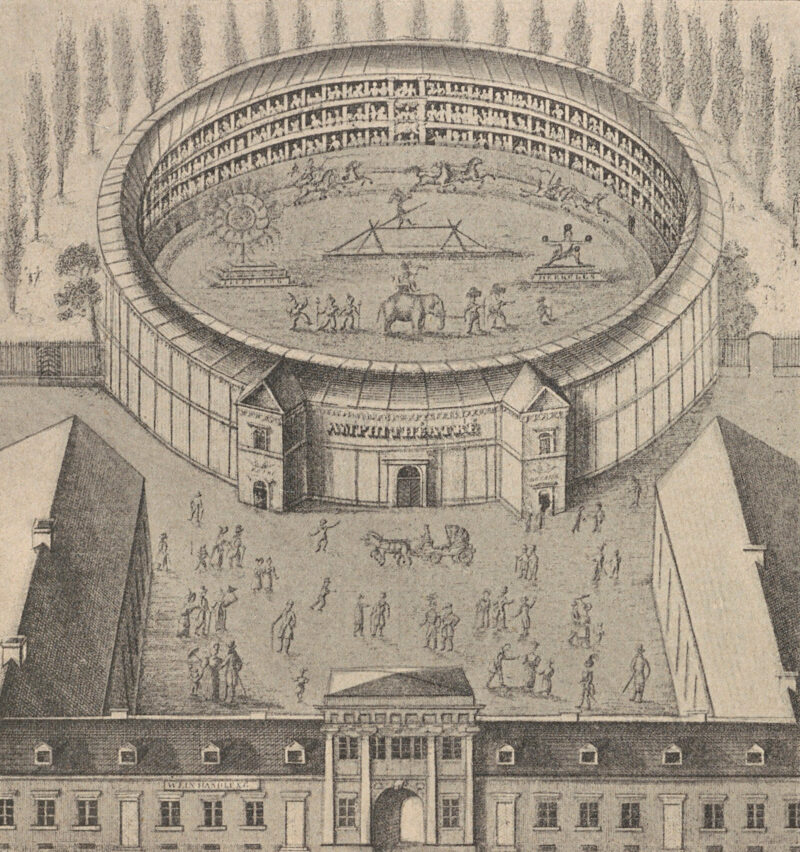 The Hatchling shows how much our relationship to animals has changed. From animal-bating to listening to the sounds of a hatching chick goes a long way to retuning sensitivities. In the era of rapid climate change and the progressive extinction of many species, The Hatchling is, therefore, about modern human readiness for empathy and bonds with other species, as well as about the fragility of life. In the artist's understanding, it is also a call for a change in our relationship with other beings.
The project was created thanks to the cooperation of Joanna Rajkowska with architects Michał Kempiński and WXCA, and with the Municipal Roads Authority of Warsaw, while working on the renovation of Plac Pięciu Rogów. "When designing the square, we were looking for an accent that would keep the busy passers-by there for a moment. The surface of the square has the features of an open form, which can be a background for both various events of urban life and a place for public art exhibitions." – says Michał Kempiński. The Municipal Roads Authority, as the contracting party of the investment of Plac Pięciu Rogów, commissioned the design of the sculpture on the square in 2019. The realization of the sculpture was preceded by extensive negotiations with the Mazowiecki Conservationist Officer. The creation of The Hatchling was a culmination of a long-term cooperation between architects, an artist, local communities and city authorities.